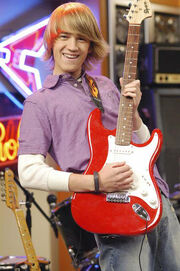 Jason Scott Dolley
(born July 5, 1991), is an American actor. He is best known for his roles on different
Disney Channel
projects. These include playing
Newton "Newt" Livingston III
on the
Disney Channel Original Series
,
Cory in the House
, and Pete Ivey in the
Disney Channel Original Movie
,
Hatching Pete
.
He began acting at the age of 11, getting the lead role in the award winning short film entitled Chasing Daylight. He was then cast by director Mel Gibson to be 13-year-old T.J. Savage on the ABC TV series Complete Savages. After Complete Savages was cancelled, he starred in the film Saving Shiloh as Marty Preston, in the Disney Channel Original Movie Read it and Weep as Connor Kennedy and in the film The Air I Breathe as a young Pleasure. In 2006, Dolley appeared in Duracell's commercial "Trusted Everywhere" Campaign "Amazon". Dolley was part of the Yellow team in the second edition of the Disney Channel Games, broadcasted in summer 2007. In 2008, he was in the third edition of the Disney Channel Games on the Green Team. In 2009, it was announced that Dolley will be in his second Disney Channel Original Series, called Good Luck Charlie.