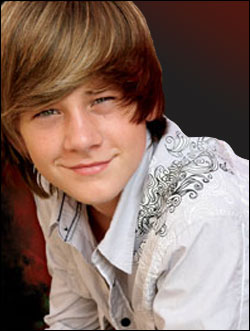 Lucas Aaron "Luke" Benward (born May 12, 1995) is an American teen actor and singer, best known for his starring role as William "Billy" Forrester in How to Eat Fried Worms and as Charles "Charlie" Tuttle in the 2008 Disney Channel Original Movie, Minutemen. He also played the role of "Nicky" in Mostly Ghostly: Who Let the Ghosts Out?. At the age 7, he appeared in Martina McBride's music video Concrete Angel.
Luke was born to Aaron Benward and Kenda Benward in Franklin, Tennessee. His father is in the country duo Blue County, his mother is a part-time actress, model, and acting coach, and his grandfather is Contemporary Christian artist Jeoffrey Benward. He has two younger sisters as well, Gracie and Ella.Best friends with Abel Moreira Jake T Austin and Crishaira S Peliño. Luke Benward currently resides in Franklin, TN.
Luke plays the little boy who helps the abused girl in the music video "Concrete Angel" by Martina McBride.
Luke first appeared in a movie called We Were Soldiers, as David Moore in 2002. His success grew in 2006, when he was 11. He played the main role as Billy in the film How to Eat Fried Worms.
Luke enjoys playing football (Wide Receiver 8th grade year) his guitar, video games, and breakdancing. Benward won a Young Artist Award for his performance in How to Eat Fried Worms, category "Best Young Ensemble in a Feature Film".
Luke has stated his faith as Christian.. He played the disciple Mark on the Word of Promise Next Generation New Testament dramatic audio bible for teens. He also performed in the "iShine" tour With the rubyz and paige armstrong in 2008, . He also auditioned for the role of Moose, in The Suite Life on Deck, but the part went to Hutch Dano instead.